Thinking of renovating your kitchen? You're not alone. It's common knowledge that Aussies love to renovate their homes. Some even do it as a business to increase the value of a house before flipping it on the real estate market. Whatever the reason for performing renovations, kitchens are one area of the home that's most commonly remodelled and updated.
Whether you are doing a full upgrade your existing plumbing layout or you're looking to add a new double bowl sink or food waste disposal system – it is always a good idea to plan.
The reason is that the kitchen can make a house look dated, and kitchens see more abuse and wear and tear than any other home part, with bathrooms coming in next. This post will take a look at kitchen renovations and offer some handy tips so you get the job done right and within your kitchen renovation budget.
It All Starts With a Sound Plan
If you start with a plan, you won't be planning to fail. Your renovation plans will act as the road map. When you refer to your plan, you'll be able to see, at a glance, what to do next and so on.
Take time to formulate your plan, as this also makes the entire project clearer in your mind.
You also won't think of everything, so you'll no doubt keep adding to your renovation plan as you develop new ideas.
Some things your plan should include are:
The layout of the new kitchen design
Tasks to complete in a particular order
The cost of each stage
The cost of plumbing fixtures, fittings, and materials
Organising trades
Timelines
Alternate kitchen arrangements (while renovations take place)
And more…
Work Out Your Project Budget
A vital component of the planning phase, but something that is also done separately, is formulating a fairly accurate budget for the entire project. This will also take some time and probably quite a bit of research as well. Just like with the overall kitchen renovation project plan, the budget will be a work in progress as you won't think of everything immediately.
If you don't bother with a budget, you'll have no idea how much money you'll need or how much you're spending, and this could spell doom for your kitchen renovation dreams.
Some things to include in your kitchen reno budget will be:
The price of building materials
The cost of new fittings and plumbing fixtures, including taps, kitchen sink etc.
The price of buying and installing new appliances, such as an oven
Labour costs
And so forth…
Once you've worked out a budget, add a little extra to cover miscellaneous items and any unexpected costs.
Organise Any Tradespeople Well In Advance
At times during your kitchen renovation, you'll need to call in qualified and licensed tradespeople to accomplish some of the tasks you can't do yourself. These trades could include a carpenter, a tiler, an electrician and a plumber.
So that your project doesn't stall, it's important to line up these tradespeople in advance, so they will be available when you need them to be.
It might be wise to have some other options as a backup in case your regular tradie can't make it for some reason.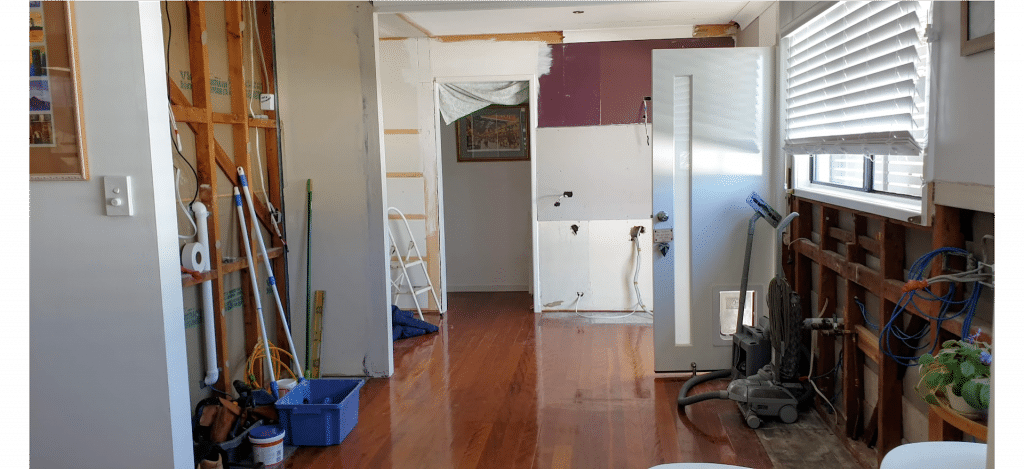 Don't Attempt Plumbing or Electrical Work Yourself
Unless you're a fully licensed and qualified professional in either the electrical or plumbing trade, you cannot, by law, attempt plumbing or electrical work yourself.
If rewiring needs to be done mid-project, you'll need to call in your electrician for this phase and then have them return towards project completion to install new appliances and any electrical fittings.
The same applies to all the plumbing work that needs to be performed in updating and remodelling your new kitchen. The pipework will likely have to be reorganised according to the new kitchen design. If any appliances are running on gas, your plumber will need to be a licensed gas fitter as well to prepare for the installation of gas appliances. There will be various stages throughout the renovation that your plumber will need to come in to complete plumbing and gas fitting work.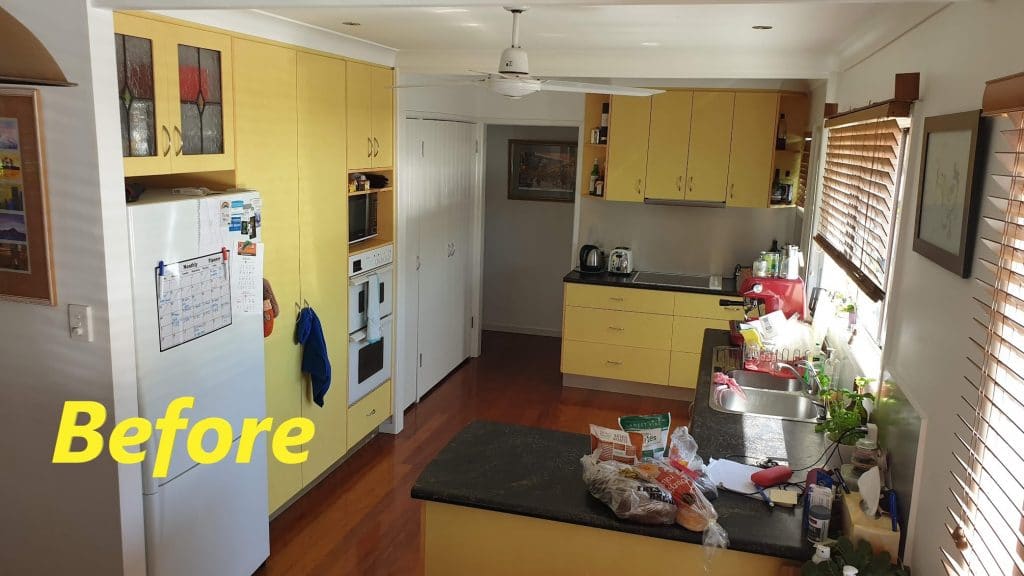 The Various Stages of the Average Kitchen Renovation
Once you've planned everything out and have a project budget, demolition is the first step in the actual hands-on renovation stage. Anything that's going to be changed or rearranged has to go. Likely, you'll need to get your plumber in early to remove old fittings and so on and to prevent the pipes from spewing out water during reconstruction.
The next phase, where you begin building the framework for your new kitchen, will also involve your plumber, as this is when the rerouting of pipes and other plumbing necessities will take place.
Installing the new kitchen, cupboards, and pantry will generally commence next, and once again, you'll need the help of your plumber during this phase of the project to install new plumbing or gas fittings. Any new walls or windows will be installed now, too, and the painting of any new walls or the installation of a splashback can also be taken care of.
As new kitchen appliances are installed, such as a new oven and cooktop, your licensed electrician will need to be present to take care of the electrical work. The electrician can also install new power points and lighting at this stage as well.
By now, your kitchen should be looking close to completion, with possibly one of the last stages to complete being the new floor and wall tiles. You might be able to attempt the tiling yourself, but if you're not confident, call in a professional tiler.
With the new kitchen installed, all the plumbing, gas and electricals connected up, the kitchen painted, and new tiles laid, it will now be a matter of giving everything a really good clean so you have a sparkling new kitchen.
And don't forget to take before, during and after photos of the entire project.

Upgrading Your Kitching Plumbing System
That brings us to the end of our guide on kitchen renovation plumbing! Remember your kitchen plumbing is an essential part of your kitchen layout. So, it is always best to speak to your local plumber for any new water connections or to install a brand new sink.
So long as you plan your kitchen renovation carefully and stick to your budget, there's no reason everything shouldn't go to plan and run smoothly. There's nothing quite like a brand-new kitchen to modernise a home and breathe new life into it.
Want more great tips and tricks? Check out our guide on renovating your bathroomhttps://refinedplumbingsunshinecoast.com.au/guide-to-renovating-your-bathroom/!
Original article by Refined Plumbing Sunshine Coast