HOT WATER SYSTEM INSTALLATIONS

SUNSHINE COAST
Experience the luxury of reliable hot water systems with Refined Plumbing on the Sunshine Coast. Our licensed plumbers ensure quality workmanship, competitive pricing, and exceptional customer satisfaction for hassle-free installations.
Is it time to stop ending your showers cold? Say goodbye to chilly showers and embrace the luxury of a reliable and efficient hot water system in your home or business.
We pride ourselves on being your local trusted provider of high-quality hot water system installation services on the Sunshine Coast. From gas to electric to continuous flow hot water systems – we can ensure your hot water system is installed right the first time.
Our expert plumbers only work with renowned brands known for their exceptional performance and reliability. Our partnership with leading manufacturers allows us to offer you an impressive range of cutting-edge systems that ensure abundant hot water supply, energy efficiency, and longevity.
So, give us a call today to install your new hot water system on the Sunshine Coast.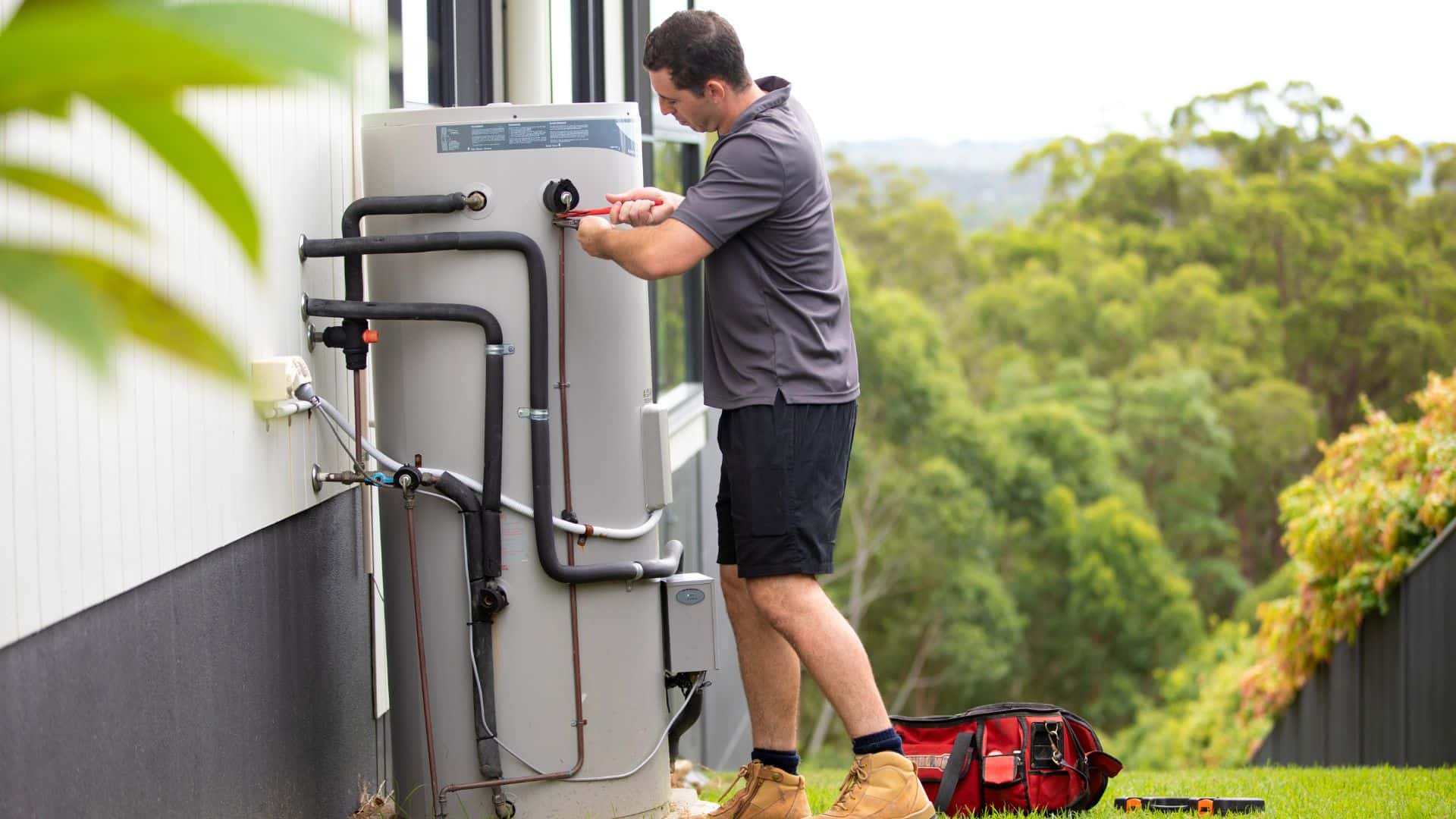 Our Hot Water System Installation Process
We aim to make the installation of your hot water system quick, easy, and hassle-free. When you choose Refined Plumbing for your hot water system installation, you will receive:
Free Consultation: Our team will visit your property to assess your needs and provide you with a free consultation. We will take the time to understand your hot water system requirements and provide you with recommendations that suit your budget and preferences.

Hot Water System Selection: Once you've decided on the hot water system you want, we'll help you choose the right unit for your needs. We work with top brands and can help you choose the most efficient, cost-effective, and reliable system for your home or business.
Professional Installation: Our team of licensed and experienced plumbers will install your hot water system with precision and care. We ensure that all installations are done in compliance with Australian plumbing standards and regulations.

Maintenance and Support: We offer ongoing maintenance and support services to ensure that your hot water system continues to operate at peak efficiency. Our team can help you with regular maintenance tasks, repairs, and replacements if required.
Sunshine Coast Hot Water Specialists
We prioritise delivering top-quality workmanship that you can rely on. Our team consists of licensed and experienced Sunshine Coast plumbers who are dedicated to ensuring that your hot water system is installed with the utmost precision and care.
We understand that affordability is essential when it comes to hot water system installations. That's why we offer competitive pricing for all our services. We firmly believe that everyone should have access to a dependable and efficient hot water system. We aim to make our services affordable for all without compromising on the quality and reliability you deserve.
Our dedicated team is also committed to providing you with the best possible service, ensuring that you are satisfied with the installation process and delighted with the performance of your hot water system.
Have Your Water Heater Installed By The Coast's Experts
Contact us today to schedule a free consultation and learn more about our hot water system installation services on the Sunshine Coast. If you have any questions about our plumbing services, please don't hesitate to speak with our team.
When you choose us for your hot water system installation, you can rest assured that you receive the highest workmanship standard, competitive pricing, and a customer-centric approach.

Hot Water System Installation FAQs
What Type Of Hot Water System Should I Choose For My Home?
The best hot water system for your home depends on factors such as your hot water usage, available space, energy source preferences, and budget. Our expert team can assess your needs and recommend the most suitable system, whether it's a gas, electric or instantaneous.
Do I Need To Prepare Anything Before The Installation?
Before the installation, it's helpful to clear the area around the hot water system to provide easy access for the installers. Additionally, if you have any specific requirements or questions, it's advisable to communicate them to our team beforehand for a smooth installation process.
Can You Remove My Old Hot Water System During Installation?
Yes, as part of our service, we can remove and dispose of your old hot water system. Our team will handle the safe removal and disposal in accordance with local regulations, ensuring a hassle-free experience for you.
Will A New Hot Water System Increase My Energy Costs?
The energy costs associated with your hot water system depend on factors such as the energy source, system efficiency, and your usage patterns. However, modern hot water systems are designed with energy efficiency in mind, and upgrading from an older, less efficient system can often lead to energy savings in the long run.