BLOCKED DRAINS CLEARING SUNSHINE COAST
Your local and reliable emergency blocked drain specialists on the Sunshine Coast. Call us for fast, affordable and efficient drain clearing services today!
Do You Have Blocked Or Clogged Drains?
Have you got a slow draining sink or smelly drains? Blocked drains are one of the most frustrating drainage problems you can face. But clearing blocked drains has never been easier with our Sunshine Coast plumbers! And, with our emergency plumbing team available 24/7 across the entire Sunshine Coast – we will never be far away!
Call us on 0405 142 154 to speak with our experts today!
We Detect, Pinpoint & Unclog Drains & Drainage Systems

We Use The Latest & Best Technology Including Drain Snakes, Hydro Jet & CCTV

Over 10 Years Local Experience & Licenced Plumbers with Top Reviews
Blocked Toilet, Kitchen Sink, Showers or Stormwater Drains

Blocked Drain & PVC Piping Repairs

We Can Unclog Both Indoor & Outdoor Pipes/Drains for Residential & Commercial

There Is No Blockage Too Big Or Too Small
Call The Sunshine Coast Blocked Drain Clearing Experts!
Let our team clear blocked drains at your property on the Sunshine Coast!
Refined Plumbing is your blocked drain specialist. Fully equipped & professional licenced plumbers with the latest technology, including CCTV cameras, pipe locators and a hydro jet machine (capable of up to 5000psi of pure water power) ready to attack any blocked drain on the Sunshine Coast. Because of this drain-unblocking equipment, we can detect, pinpoint and unblock even the most stubborn blockages. If the blocked drain is caused by a more serious issue, such as collapsed or broken stormwater or sewer pipes, we can also fix that!
After the blocked drain is cleared, a CCTV inspection is recommended to ascertain what underlying issue caused it and the possibility of reoccurring.
Call our drainage specialists if you think you have a blocked drain, such as gurgling sounds, slow draining water, or blocked stormwater pipes, so it's more cost-effective. We specialise in blocked drain repairs, or the drainage pipes may need to be relined or replaced.
Contact us today for superior blocked drain cleaning on the Sunshine Coast!
Unblock All Types Of Drain Blockages!
Unsure what is causing your plumbing problem? With our specialised equipment, we can handle most standard blockages and even the stubborn ones… believe us, we have seen it all!
Our qualified professional plumbers use various methods, such as a CCTV camera inspection and hydro jetting, to ensure they correctly identify the cause of your blockage and provide you with the best plumbing solutions.
Blockages caused by tree roots

Ground subsistence causing drain blockage

Blockages caused by collapsed pipes
Drain blockages in crushed pipes from heavy vehicles

Blocked drains due to build up of hair

Blocked kitchen drains due to grease buildup
Standing Water In Kitchen Or Bathroom Drains?
Things like food scraps, bones, and vegetable peelings all lead to a build-up of debris in the pipes, ultimately leading to a slow-draining kitchen sink or even a blocked drain at some point.
The same goes for the bathroom. Hair, pieces of tissue or toilet paper, clumps of soap and so on can get down into the pipes and cause a blockage. Like a net, hair traps all sorts of materials and can readily lead to a bathroom sink or shower drain that's slow to drain or a completely blocked pipe.
You could try a few things like running hot water down the drain opening or pouring baking soda & vinegar, boiling water or acidic cleaners from the hardware store down the sink, but this may be just a band-aid solution. Even a plumbers snake may not solve the issue.
Have our blocked drain clearing services from Refined Plumbing solve the problem. Speak to drain specialists about your options for blockage removal and drain repair today!
How Can You Prevent Blocked Drains Sunshine Coast?
Common sense goes a long way in ensuring the drains in your home always run freely. For starters, blocked toilets are often a result of items being flushed down the toilet that shouldn't be in there in the first place.
A prime example might be someone cleaning the toilet, drying it off with a kitchen paper towel, and then flushing it down the toilet. This can instantly clog up the toilet bowl and create a real mess.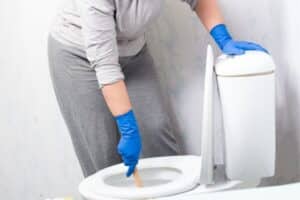 Minimising food scraps in the kitchen sink is another simple thing that will help prevent a blockage from occurring. Scrape everything off plates into the garbage bin and never try and flush things like vegetable peelings, the rind of fruits or cooking oil down the sink. No matter how small, objects such as bones should always be discarded in the trash.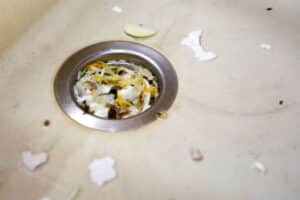 Any long hair collected in the basin, shower or bath drain in bathrooms should be picked up and tossed into the bin to minimise hair build-up.
Running some drain cleaning products through your drains periodically or getting your plumber to perform maintenance can also help prevent debris build-ups.
Please take a look at our Guide on Blocked Drains: Causes, Remedies & Prevention.
Please don't DIY drain repairs contact your local professional plumber anytime, 24 hours a day, to assist with all your plumbing problems with our drainage services.