HOT WATER SYSTEMS SUNSHINE COAST
Trust Sunshine Coast's fully licensed and accredited specialist for hot water. Our experts specialise in heat pumps, solar, gas & TMVs!
Hot Water Systems Sunshine Coast: Your Local Specialists
Installation, Service & Repairs
Are you looking for experienced and reliable hot water services? Refined Plumbing is the Sunshine Coast's hot water systems specialist.
We have special accreditation for heat pumps, solar and heating and thermostatic mixing valve (TMVs). We also have our Restricted Electrical Licence which saves you the additional cost of an Electrician. Plus, our team are fully licensed and experienced gas fitters, so we've got you covered!
Our friendly hot water plumbers service the entire Sunshine Coast, and can provide assistance with all types of hot water heaters:
Solar hot water systems
Electric hot water heaters
Gas hot water units
Heat pumps
Instantaneous systems
Need help choosing the right hot water system? Our Sunshine Coast plumbers are happy to help! We also offer emergency plumbing hot water repairs or replacements for all hot water units on the Sunshine Coast.
We can diagnose, advise and repair any gas, electric or solar hot water systems, normally within the same-day service within the Sunshine Coast region, saving you on call-out fees and running costs.
Contact us today for all your hot water needs, whether it be a gas fitting, solar or electrical unit were here to help.
Servicing of hot water units

Repairs or replacements on existing hot water units
Get Your New Hot Water System Installed Today!
Do you want to replace or install a new hot water system? Refined Plumbing is the team to call if your old hot water system is faulty or you're building a new home and want a quality hot water system professionally installed.
Not only can we remove your old unit and install your new one for you, but we can also advise you on the best size and type of system and model to suit your home's needs.
You want a reliable hot water system that can handle your household's workload, so the right advice and professional installation are a must!
24/7 Urgent Hot Water Repairs
Is your hot water unit not producing the same amount of hot water it used to? Has the continuous flow of water reduced down to a dribble? Is the water temperature simply not warm enough?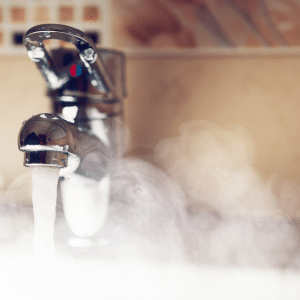 Or, perhaps your hot water system has suddenly stopped working, and only cold water runs out of the hot water tap? You may not need to replace your hot water system with a new one!
Our experienced plumbers want to save you money, so we will repair your system and get your hot water flowing again in no time!
Hot Water System Servicing: Keep Your System Flowing
To keep your hot water system in good condition and heating efficiently, it requires regular maintenance & servicing. Not only will this ensure your system always produces piping hot water on demand, but it can also save you some cash on your electricity bills.
Hot water systems operating at their best will consume less power than those always struggling to heat the tank. Talk to the experts at Refined Plumbing and arrange for regular hot water system servicing so your unit works effectively and you always have hot water when needed!
Get Your Hot Water System Inspected: Hot Water Health Checks
Safety check
Temperature check
Wear & Tear check
If you are needing a hot water systems Sunshine Coast specialist. Give the team from Refined Plumbing a call they offer high-quality service and will have you hooked up to reliable hot water in no time.
Call Izaak on 0405 142 154
Hot Water Systems Frequently Asked Questions
How long does it take to heat a 250 Litre hot water system?
The general rule of thumb is 1 hour for every 100 Litres of water. So if your system isn't hot in 2.5 hours for a 250 Litre it would be wise to contact Refined Plumbing.
What temperature should a hot water system be set at?
Your Hot water tank should be set at a minimum of 60 degrees celsius to prevent bacteria growth in the tank. It is a requirement that a tempering valve be installed to ensure the safe delivery of hot water is reduced at a maximum of 50 degrees to your common household.
Why is my hot water system not working – common problems
There could be a multitude of reasons why your hot water system isn't working:
First off establish the type of hot water system you have, Gas, electric, solar, heat pump.
Second, once you have established the type of unit you have you need to identify where the problem is. Is the hot water unit itself hot but the water in your taps not? The answer to this question will lead you to whether the supply to the tank is faulty (Gas, electrical, solar) or whether the problem lies downstream of your tank (tempering valve or pipework).
Is it cheaper to leave the hot water on constant?
Keeping your hot water unit on will prevent bacteria growth in your water supply. However, if you are concerned about the amount of power the hot water unit is using there may be some tips and tricks to offer. Contact Refined Plumbing to book a safety check on your hot water system.
What are the signs your hot water heater is starting to fail?
Is your hot water unit taking longer to get hot? Is the amount of hot water you have less? Is your unit rusty or leaking? These are all signs you need immediate assistance from our fully qualified plumbers.
How often should you drain your hot water heater?
Refer to manufacturer standards on how often to release the PTR valve. If you are still unsure, give us a call!
Is it bad to turn your hot water heater all the way up?
You shouldn't adjust the thermostat as there is live power adjacent if unsure don't proceed without engaging professional advice.
Can a water heater be installed directly on the floor?
Each tank is different and is installed according to Australian standards and manufacturer's standards.
What is the most efficient hot water system? Cost? Brand?
To me, the most efficient hot water system is assessed on a case-by-case basis. I do full assessments and walk through with my clients to look at some variables such as:
-Access to pipework (Plumbing and Power)
-Access to drainage
-Clients desired outcome
-Budget
Together with all this information, I can empower you to make a decision to supply hot water to your most valuable asset, your family home!
A fixed quote is supplied so you can feel at ease to make a decision on a quality plumbing company here on the Sunshine Coast.
The brand of hot water unit that we use depends on the above variables. Some hot water units are better for low flow smaller pipes, whilst other brands are suited to a higher flow rate. All these factors are considered on-site with our fixed price quote.
Does a plumber or electrician install a hot water heater?
A licensed plumber must install and certify the installation of a hot water unit. Refined Plumbing also holds a restricted electrical licence and as such can disconnect and reconnect an electric hot water unit. One call and one trade to sort all your hot water needs.
How much does a new water heater cost with installation?
Every hot water unit cost varies due to a number of factors. Contact Refined Plumbing for a no-obligation quote.