As a landlord in Queensland, renting out your property involves numerous considerations, and one crucial aspect is efficiently managing water consumption costs. To achieve this, you must navigate the realm of Water Efficiency Certificates, a process laden with specific requirements and regulations. In this comprehensive guide, we delve into the essential details, offering insight into how to pass on water consumption expenses to tenants while upgrading your property to meet the necessary standards. So, let's embark on this journey toward a water-efficient rental property in Queensland and how your local plumber can assist you in achieving this.
 One very important thing is to ensure that you have the ability to pass on the costs of water consumption to the tenant. The easiest way to achieve this is to get in touch with a licensed plumber and work with them to obtain a Water Efficiency Certificate pursuant to the Plumbing and Drainage Act 2002 s. 86(9).
Due to the fact that there are certain standards that must be met according to the Legislation, the Master Plumbers Association of Queensland has created specific guidelines for a Water Efficiency Certificate and the Landlord or the Real Estate Agent can get in touch with a plumbing company and request that a water compliance certificate be issued for a property.
What are the Minimum Requirements for Charging Water Consumption?
To ensure you can pass on water consumption costs to tenants, certain criteria must be met:
Tenancy Agreement: Make sure your tenancy agreement clearly states that the tenant is responsible for their water consumption charges.
Water Efficiency Certificate: Your rental property should be certified with a Water Efficiency Certificate.
Individual Water Meter: Your rental property must have its own water meter that can be read by civic authorities for billing purposes.
Fixed Charges Responsibility: Remember, as the property owner, you're responsible for covering all fixed charges and cannot charge tenants more than the billable amount on the water bill statement.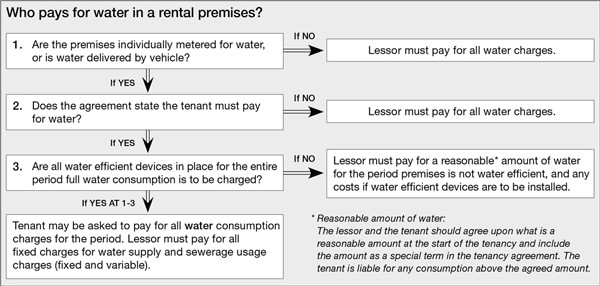 Image: https://www.rta.qld.gov.au/forms-resources/fact-sheets/general-tenancy-fact-sheets/water-charging-fact-sheet

How is Water Efficiency Proved?
To demonstrate water efficiency, gather the following documents:
Plumbing Fixture Receipts: Keep receipts for plumbing fixtures purchases.
Warranties and Manuals: Maintain warranties and instruction manuals for showerheads and taps.
Documentation of Upgrades: Take photos of packaging from items purchased for plumbing upgrades.
Plumbing Reports and Compliance Certificates: Have plumbing reports or certificates of compliance on hand.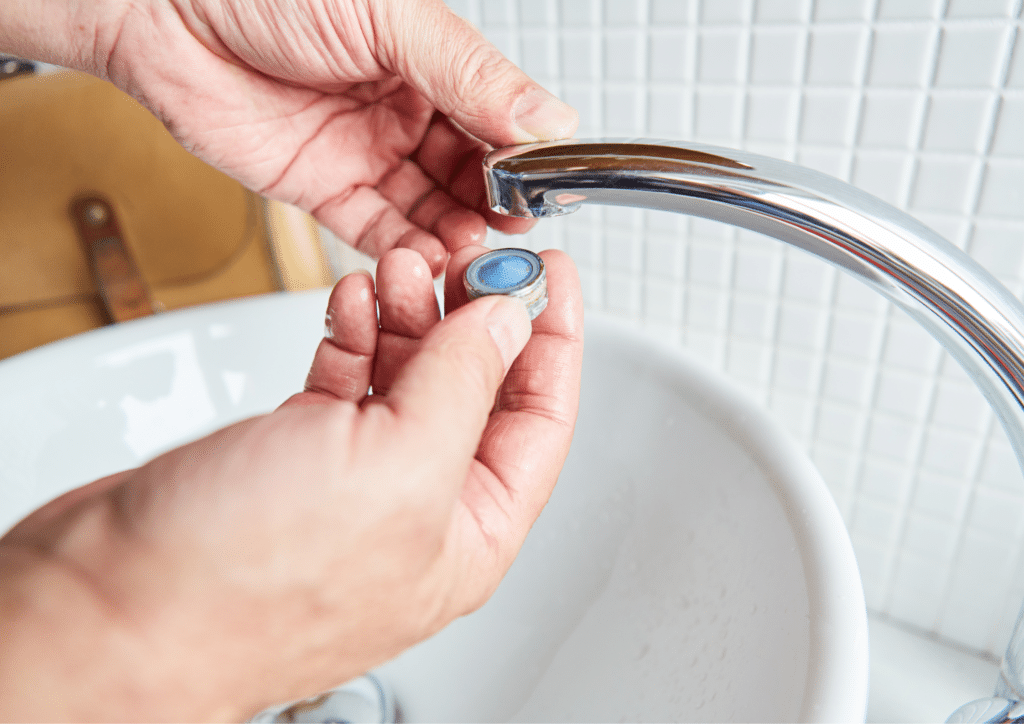 Upgrading and Updating Your Property
If you would like to get started with updating the plumbing for your property so that you can obtain a Water Efficiency Certificate, you need to get in touch with an experienced and professional plumbing company to work with. Once you obtain that certification you can pass on the costs of water consumption to your tenants. A professional plumbing company can assist you by working with you to get a Water Efficiency Certificate issued.
The steps involved will include:
Consult Professional Plumbers: Contact a professional plumbing company with experience in water efficiency certification.
Aerators Installation: Install aerators to restrict water flow.
Outlets and Taps Upgrade: Upgrade outlets and taps to prevent leaks.
Flow Restrictors: Install flow restrictors in tap spouts and directly into taps.
How does a Property Meet the Water Efficient Requirements?
According to the Queensland Residential Tenancies and Rooming Accommodation Regulations, there are several important conditions that must be met in order for a Water Efficiency Certificate to be issued:
Showerheads Flow: Ensure showerheads have a maximum flow of 9 litres/minute.
Cold-Water Taps: Internal cold-water taps and single mixer taps should also have a maximum flow of 9 litres/minute, excluding taps for bathtubs and appliances.
Toilet Dual Flush: Toilets must feature a dual flush function not exceeding 6.5 litres when fully flushed and 3.5 litres when half flushed. The maximum average flush volume should be 4 litres with 1 full flush and 4 half flushes.
Individual Water Meter: Rental premises must have an individual water meter or receive bulk water from a delivery company.
Since you are the landlord and property owner, you are still going to receive the water bill when it is issued. You are to pay the full amount and then pass on a copy of that water bill to your tenants along with a copy of any water consumption reading so that they are able to verify the amount that has been charged. Tenants are never billed directly through water supply authorities. Tenants cannot be charged for sewerage usage charges or fixed access charges.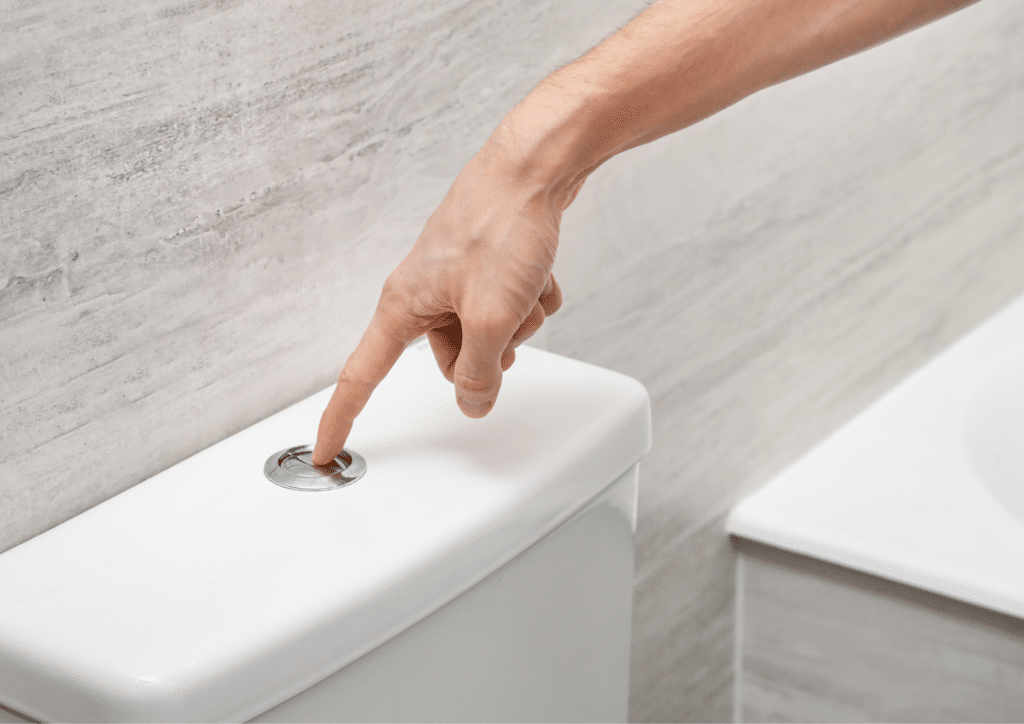 What are the Guidelines for the Certificate?
The Water Efficiency Certificate has specific guidelines for plumbing work, inspection, and issuance:
Document Plumbing Work: Plumbing work must be inspected and documented at each stage.
Important Dates: Include crucial dates such as the installation of plumbing and drainage under the floor slab, below ground level outside the building, inside the building, and the completion date of plumbing and drainage work.
Plumbing Inspector: If the work wasn't inspected by a plumbing inspector, state this on the certificate and provide a work plan to the Local Government.
Charging Water Consumption to Tenants
Remember that as the landlord and property owner, you'll receive the water bill. You must pay the full amount and then pass a copy of the water bill, along with a water consumption reading, to your tenants for verification. Tenants are not billed directly by water supply authorities and cannot be charged for sewerage usage charges or fixed access charges.
Seek Professional Guidance
If you plan to rent out your property, consult a professional plumbing company to understand what's required to meet the standards for a Water Efficiency Certificate. This certificate is essential for passing on water consumption costs to your tenants. A well-established local plumbing company can handle all the necessary requirements, ensuring you get your certificate and can proceed with renting your property with a clear tenancy agreement in place. Refined Plumbing provides Water Efficiency Audits so contact us today!
Original article by Refined Plumbing Sunshine Coast