In this post, you'll discover some key reasons why you should choose gas, what a gasfitter is and what does a gasfitter do? Gasfitting is a term that's becoming more and more synonymous with Australian homes. With everyone becoming more energy-conscious and striving to slash costs on electricity bills as well, many Aussie homes are now turning to gas as a viable alternative to running everything on electricity. 
Gasfitting is a term that's becoming more and more synonymous with Australian homes. With everyone becoming more energy-conscious and striving to slash costs on electricity bills as well, many Aussie homes are now turning to gas as a viable alternative to running everything on electricity. In this post, you'll discover some key reasons why you should choose gas, what a gasfitter is and what they do.
Why Use Gas?
Gas is clean energy and it's very safe. It's fast replacing electricity in many Australian homes because it's simply cheaper to run hot water systems and other kitchen appliances on gas rather than using electricity. Using gas is also kinder to the environment overall, and cooking with gas is energy-efficient and more accurate. When you raise or lower the gas temperature on a hotplate, for example, the temperature change is immediate, unlike electric-powered hotplates.
One of the biggest consumers of energy in Australian homes is a hot water system, often accounting for one third or more of the electricity bill. Switch to gas and you'll discover that you hardly spend any money at all to keep your water hot.
What is a Gasfitter?
A gasfitter might be a tradesperson who specialises in gasfitting alone, or more often than not, it's an integral part of the plumbing trade. Either way, both have to be trained and licensed as gas fitters.
While a qualified plumber who does gas fitting can undertake both gasfitting and plumbing work, someone who is solely qualified as a gas fitter cannot attempt any plumbing jobs.
Why Gasfitters Need to be Licensed
Unless gas pipes and appliances are installed correctly to industry standards, gas can obviously be dangerous. When a gas fitter is licensed, not only does it mean they are industry-regulated, but they have been trained to the highest level of safety standards, ensuring the results meet industry standards and the work has been done in a safe manner.
A licensed gasfitter ensures both quality of work and safe results. It's also against state laws to work on or install gas piping, fittings and appliances without a gasfitting license.
Gasfitters Must Understand and Follow Building Plans
In order for a gasfitter to be able to effectively plan and install a gas piping network, they must be able to read and understand the house and building plans. While house plans may look straight forward to the untrained eye at a glance, it actually takes a lot of training and experience to fully comprehend them.
A fully trained and licensed gasfitter will be adept at reading and comprehending building plans so that the gasfitting work is done correctly, efficiently and cost-effectively. Most importantly though, the system will be installed safely.
Understanding house plans isn't only important for the installation of the gas pipe network, but also to correctly install any gas appliances within the home or building.
Quick Summary of What a Gasfitter Does?
Let's find out what a gasfitter actually does.
For starters, they can install all the gas pipes necessary to serve gas to your hot water system, stove, oven, or even your barbecue. In addition to piping, a gasfitter will also install regulators, valves, burners and gas meters. The installation of gas-operated appliances (such as a hot water system) also comes under the role.
Your gas fitting expert can also help maintain your system, performing periodic inspections to ensure everything is safe and working correctly. If you need to be shown how to operate and maintain your new gas appliances or have any concerns at all, your gas fitter can answer all of your questions.
Whether residential or commercial, gasfitters may even install LPG gas systems in boats, caravans and RVs.
Gasfitters are qualified professionals who have been trained in the installation of gas systems for both homes and businesses.
Gasfitters also do Repairs and Maintenance
Gas fitting doesn't just involve new installations. It's also about ongoing maintenance and performing any necessary repairs or upgrades to an existing gas system. This also includes repairs and maintenance for gas appliances.
Any appliances that run on gas will need to be repaired or maintained by a gasfitter. After all, they run on volatile substances. Appliances may include:
Regulators
Burners
And more…
Meters and regulators control the gas flow to the home. If these get damaged or neglected, it can adversely affect your appliances. If you notice appliances are not working as they should, or you suspect a gas flow problem, you'll want to call in a gasfitter as soon as possible to have the issue checked and rectified.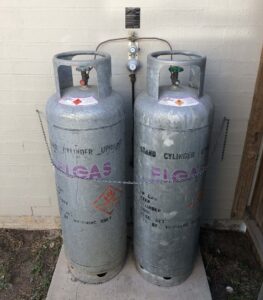 Gas Operated Equipment Installation and Use
Aside from installing all the gas pipes and fittings, one of the main roles of a gasfitter is to install your home's gas-operated appliances, set them up and instruct you on their operation. This also includes safety procedures and precautions.
Part of the procedure is to make sure all of the appliances are properly fitted to the gas lines. Leak detection will be performed to ensure there are no leaks and everything is safe and working as it should.
For ease of use, the gasfitter will make certain your appliances can easily tap into the home's gas supply so they function at their optimum, the way they've been designed to do. If the appliances are not receiving the amount of gas they need, it's an indication that there's something wrong in the gas supply and the gasfitter will then pinpoint and rectify the problem.
The installation of gas appliances should only ever be performed by a licensed gasfitter.
Gas Line Problems? Call in a Gasfitter
It's important to monitor your gas system and generally keep an eye on things. You may not be able to pinpoint the exact problem yourself, but your gasfitter is trained in doing so and will readily fix the issue.
Making notes of anything odd or unusual is a way to help your gasfitter determine and locate the problem more easily, so it gets resolved sooner.
One of the most important roles of a gas fitter when it comes to troubleshooting is the detection of gas leaks in your system and your appliances. Gas leaks are not something that should be left unattended as they can be extremely hazardous. If you suspect a leak, call in a gasfitter immediately.
Safety Systems are Essential for Detecting Gas Leaks
When it comes to anything gas-related, you gas fitter is in charge to ensure safety and the smooth running of your gas appliances. Gasfitters will set up safety systems to keep you and members of your family safe in the event of any incident involving your appliances or gas lines.
Everything suffers from wear and tear and sometimes damage. Your home's gas system is no exception. This is why it's vital that your gas fitter has safety systems in place so accidents or injury can be prevented.
Of course, safety in your home is not entirely the responsibility of your gasfitter. After all, you live there. They don't. Therefore, it's imperative that someone in your household is also familiar with how the safety systems work.
Your gasfitter will show you how the systems work, so in the event of an emergency, you know exactly what to do to prevent a major catastrophe.
Ideally, everyone in the household will have an understanding of how the gas safety systems function, as well as having ready access to any emergency phone numbers that need to be called in the case of a major problem.
Call in a Gasfitter for Periodic Inspections
It's a wise idea to have your gasfitter perform periodic inspections of your entire gas system at least once a year. Not only will this give you peace of mind knowing that everything is safe, but it also allows your gasfitter the chance to pinpoint potential problem areas that can be rectified before they become an issue.
This is not only the safest approach but also something that can save you money in the long-term.
So, be sure to book in for an annual gas line and gas appliance inspection, even if you don't suspect there are any problems. When it comes to gas, prevention of problems is always the best approach.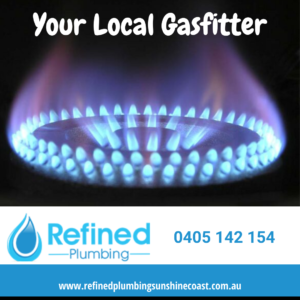 Get in touch today and have a chat about your requirements. We're happy to answer any questions you have.
Original article by Refined Plumbing Sunshine Coast